Rapelisberger
I get it, Ben. You have to find a way to hide the ugly. But I just don't think this hat is the way to do that. It's somehow just pointing out how unpleasant you are to look at in the first place.
This rarely happens, but I'm at a loss for words. If you're not a 75 year-old man heading to church on Sunday, why on Earth would you even think to wear this get up?
A post about the third and final installation of the most recent Batman franchise, "The Dark Knight Rises," on The Sports Muse, you ask? Yep.
Stay with me.
The Sports Muse is not a place where I typically reveal my non-sports related celebrity crushes. But exceptional times call for exceptional measures.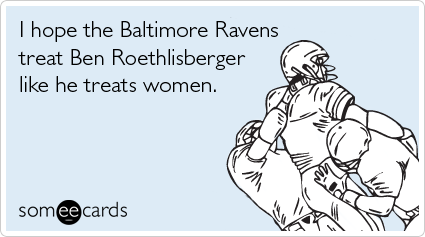 There is nothing more I can add to the perfection of this someecard. It's official: After this weekend's heartbreak, I'm now rooting for the Baltimore Ravens. At least for this weekend.