High Fashion Designer Marchesa Joins with the New York Jets
Fashion for female football fans has come a long way since the need to purchase boys youth jerseys in major retailers because no women's sizes were carried. Which, sadly, wasn't that long ago. Now, companies and sports teams and leagues are wise enough to know the buying power of women and try to harness it.
You no longer need to show your team pride by trying to make your husband's jersey fit your shape. The options now come from places like Victoria's Secret, Old Navy, Touch by Alyssa Milano and NFL's women's shop. Cute team tees are yours at the ready. But some women need a dose of high fashion combined with their sportswear.
Enter the New York Jets and some of their celebrity supporters.
Suzanne Johnson, wife of team owner Woody Johnson, approached friend Georgina Chapman, who happens to be the co-founder of Marchesa. Mrs. Johnson wanted to create a limited-edition top celebrating the Jets. For her part, Chapman is married to Hollywood powerhouse Harvey Weinstein, a huge Jets fan and supporter of the idea.
Johnson told InStyle magazine,
"It's been a year in the making and I can't wait to unveil the Marchesa shirt for the masses, a real fashion-forward statement for female fans that elevates team apparel."
"My design philosophy centers on the dramatic and feminine; beading, embellishments, and lace are an integral part of the Marchesa aesthetic," It was instinctive to approach the Jets piece in the same manner."
The end result is a top priced at $110 sold at jetsshop.com that is a made of jersey material embellished with Swarovski crystals.
Love the look but a fan of the J-E-T-S? Don't despair. Versions for the Pittsburgh Steelers, New Orleans Saints, Baltimore Ravens, Kansas City Chiefs, and Washington Redskins are planned by Marchesa.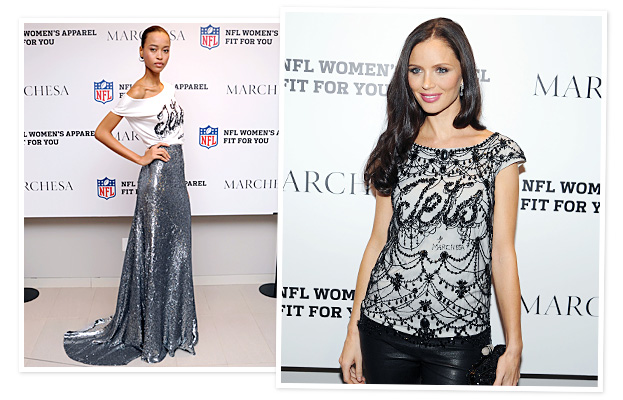 Swank out your Marchesa Jets tee. The top on the right is the couture version and is not available for sale. Well, at least not to you and I. Drat. Images via InStyle.com
Follow The Sports Muse on Twitter at @sports_muse and on Facebook. For the Philadelphia Eagles fans among you, be sure to check out Philly Sports Muse.