Vick's In, Kolb's Out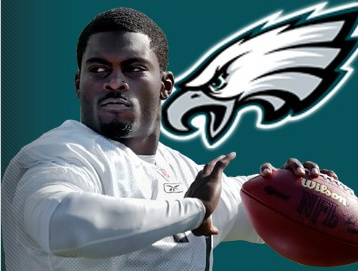 In a move that stunned the world of sports, the Philadelphia Eagles today announced that Michael Vick is now the team's starting quarterback. Not just for this Sunday's game against the Jaguars, but indefinitely. This move after coach Andy Reid stressed multiple times after the Eagles win over the Detroit Lions--even yesterday-- that, while Michael Vicki did well, Kevin Kolb is the team's starting quarterback. It seems one shouldn't get injured on the Eagles--you may just find yourself out of a job.
Much has already been made of this decision, and it will be the talk of the season for Eagles fan. Was it the right move? If/when Vick doesn't do well, who will then be blamed? Much of the speculation will focus on why Reid went back on his word about being committed to Kolb. Say what you will about Andy Reid, but the man doesn't waiver. He has angered Philadelphia for years with his stubbornness, but he knows what he wants and sticks with it. This sudden change is not at all typical for Andy Reid. Was the change forced upon Reid from above? This seems to be the only answer that makes sense.
I have mixed feelings about this move. On the one hand, I am happy for Michael Vick. Yes, I am an animal lover. Yes, I was sickened by his treatment of dogs. I was livid when the news that it was the Eagles that were taking a chance on Vick was announced. The man committed a horrendous crime. But he served his time. This has been said all too many times with regard to Vick and the Eagles, but at what stage is someone deserving of a second chance? I'm not sure what more he could do after serving his jail sentence. I don't think that there is any way for someone to prove that they won't engage in a behavior again. You can only judge from their actions and hope that what they say is true. Michael Vick seems to be a far more thoughtful, humble individual now than before he served his jail time. It typically takes an extremely hard lesson for people to truly reform their behavior. We can only hope and trust that jail provided such a lesson for Michael Vick. There are plenty of athletes who have committed atrocities against other humans--women, in particular--and there is no outrage. There seems to be no remorse on the part of the athlete. And there is nothing even approaching the outcry that has surrounded Michael Vick's return to the NFL.
That being said, Kevin Kolb has gotten the shaft from the Eagles. You bring him in for half of a game, he gets a concussion, and he's out? For good? That's not my understanding of a rebuilding team committed to its new quarterback. I think of this young man who must have been so proud and excited to be a starting NFL quarterback and had that dream--that promise from the Eagles organization--taken away from him. No, Kolb was not impressive in his pre season games or in the half he played versus the Lions. In fact, he was awful. But the only way to learn how to play in the National Football League is to do just that. Get out there and play games and learn from your mistakes. Pulling Kolb from the starting quarterback position says to me that he will never be a starting quarterback for the Eagles. How is he supposed to regain the trust and support of his team and fan base after this about face by the Eagles?
In the end, all professional sports are about business. But part of good business practice is keeping your word and being consistent in your message. The Philadelphia Eagles have failed on both counts. Time will tell if their decision will reap the desired results for the organization. The Eagles believed in second changes for Michael Vick. Clearly, this philosophy doesn't extend to Kevin Kolb.