You Don't Have to Like Football to Enjoy "Hard Knocks"
You Don't Have to Like Football to Enjoy HBO's "Hard Knocks"
I have only recently learned of HBO's show "Hard Knocks: Training Camp with the New York Jets," due to the comments by former Colts Coach Tony Dungy on the language used by Rex Ryan. I wanted to tune in to see if Dungy had a point about Ryan's language, or if he was just being a bit anal (turns out it is the latter). But I also wanted to tune in because I've always wondered what goes on at training camp. And I've never really understood the process of free agents being released or being signed by teams based on their performance at training camp.
I tuned in to watch the 1st episode and am now absolutely in love with the show. "Hard Knocks" contains everything that makes me like sports: The sport itself; the characters; the raw emotion of success and failure; the heartbreak of people trying their best to fulfill their dreams and faillng to doing so; The sheer joy of someone's dreams being met. It contains glimpses into the players and coach's personal lives. You get a peak into the business end of things, and how the decisions of who stays and who goes are made.
After the opening scene of episode one, containing at least 4 expletives from Rex Ryan (he only uttered 2 sentences), I was in love. By the way, I really like Tony Dungy but think he and I should never meet, as I saw no issue with Ryan's language. Coach Ryan was hilarious and has a huge personality that immediately draws you in to the show.
My tear ducts seem to be faulty, as they emit moisture at virtually everything. The story line about Kevin Basped, who was signed as an undrafted free agent by the Jets, made me mist up. Basped is filled with youth, has a winning smile, and it doesn't hurt that he is exceedingly handsome.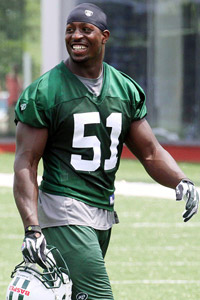 (Basped, image courtesy of ESPN)
You instantly root for him. Basped attracts the attention of Coach Ryan and his staff for his ability, but you learn that he already has severe problems with his knees. If he has problems at the tender age of 22 and while just started in the NFL, what does the future hold for Basped's health? The young man is released by the Jets, because they say it is unfair to him and his health to put him through the abuse of the game. Who knows if that's the ultimate reason, but it tugs and your heart strings just the same. Even though I don't wish an a post-football life filled with pain on anyone, I hope someone will pick up Basped so that he can play at least a season or 2 in the NFL.
The last thing to note about the current season of "Hard Knocks": The Jets seem to be an exceedingly handsome team. I'm sorry, if any woman that enjoys sports denies the fact that her enjoyment is increased by the fact that many professional athletes are not just tall and toned but are attractive, she is lying. It is one of the joys of sports. You enjoy the game, and find a crush or 12 in the process. The current roster features quarterback Mark Sanchez, who is a cutie:
(from ionlinephilippines.com)
But more impressive to me is Jason Taylor. Below are a few pictures to give you an idea of his dreamy goodness. A Google search will yield an unending supply of other gorgeous pictures, even one of him with Elmo.
(picture from MiamiSportsBlog)
(from http://asavitt.com/blog/fish-out-of-water)
Phew! Sorry for that diversion.
Back to the point of this post: Check out "Hard Knocks." I will fully taking advantage of watching the current season while we still have our "free" HBO promo for our cable. I wasn't aware that until today that this is the 6th season of the show. I enjoyed my first viewing so much that I hope to check out some of the earlier seasons, sans the bright lights of New York and bigger than life personality of Ryan on the current season to get even more of a feel for the highs and lows of NFL football.